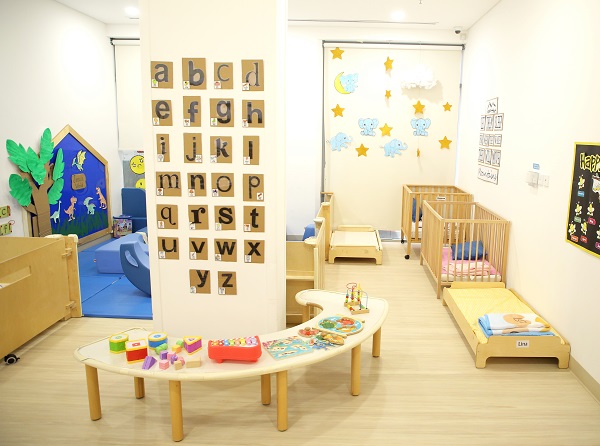 Our Facilities
At LDN we believe in providing an environment that maximizes each child's development and learning opportunities through a safe and nurturing setting which is supported by our qualified, experienced, and caring early years educators. Our state-of-the-art facility has been specially designed to allow a free flow of movement for the children, stimulating their curiosity and independence.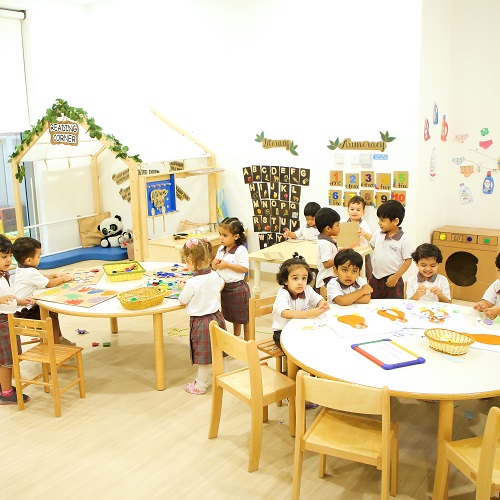 Classrooms
Each classroom is a large airy room allowing for plenty of space for young children to move freely as they develop their large and fine motor skills. We have prepared a learning environment with a wide range of concrete learning materials that encourage the child to discover and learn throughout this critical phase of their life.
We have selected resources and furniture pieces that are at child height to motivate children to explore in all areas of learning. All classes including the baby's class offer a variety of hands-on resources where young children can enjoy various sensorial experiences of sight, sound, smell and touch which are all important in a child's development.
We thrill to nourish the child's sense of independence by providing individual spaces for each child to keep their own belongings in an accessible way. Each class is provided with a particular area that allows the children's individual routines and needs to be met.
The Baby room is connected to a sleeping cozy room where babies enjoy a relaxing nap together. This sleeping room is fitted with glazed windows to allow continuous observation of young children. It is also used during late day for the toddlers to take a little nap if needed.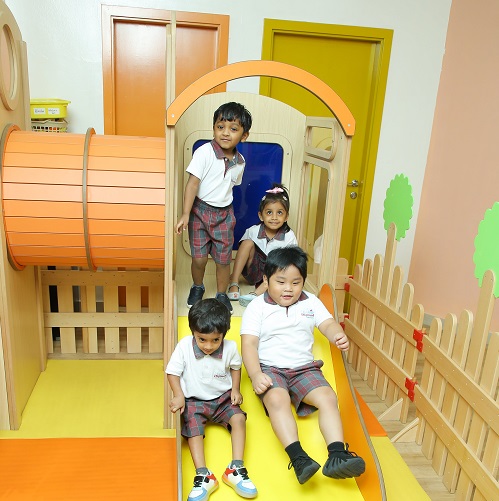 Indoor Playroom
This indoor play area is carefully prepared to accommodate the children's needs to develop through play. This area is equipped with an age-appropriate climbing area and offers different opportunities for Arts and role-play activities.
Outdoor Area
The outdoor play area features a fantastic shaded safe flooring with a selection of age appropriate cars, bicycles, slides and sand pit.
We put a great emphasis on developing the whole child, this is why gardening activities are embedded in our program and take place in the outdoor area. Gardening is educational and develops various skills including responsibility from caring for plants, understanding the cause and effect relationship, self-confidence from enjoying the food they have grown, love of nature while learning about sciences, productivity in a fun way, cooperation and learning about where food comes from.
Clinic
The Nursery houses a clinic with a full-time DHA licensed Nurse. Also, periodic doctor visits take place in the clinic to follow up on each child's medical file and health development.